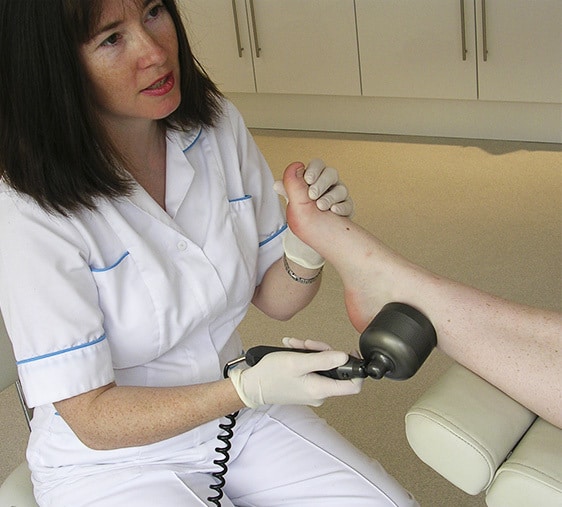 Established in 1992 Market Street Clinic is Cornwall's leading Podiatry Centre providing excellent foot care for over 30 years in a relaxed, welcoming and professional environment. We are committed to providing the best possible podiatry care to every patient. Our staff are here to help you with your foot and ankle health.
Read More

Verrucas.
Swift® microwave therapy. A proven solution for stubborn warts and verrucae. We can even treat hands. Call us now for more information with one of our friendly team on 01566 777600.
Swift® is the pioneering new microwave therapy for verrucas. Its quick, hassle free, no drugs or needles, paints or potions. Just State-of-the-Art technology and over 25 years experience in providing verruca removal.
Swift® has finally been approved by UK regulators, CE marked, passing both clinical tests and field trials. Always being at the forefront of podiatry and a market leader we now feel confident to roll out this treatment for verrucas in Launceston using Swift® at Market Street Clinic Ltd.
Our Vision
Developing a world class centre of excellence for Podiatry Care in the South West of England
Widely recognised as having the highest reputation for quality and service, it is our mission to passionately pursue the foot health and well-being of our patients by treating and preventing foot ailments in a relaxed and friendly atmosphere. Many of our patients are via recommendations from other podiatry clinics and foot health professionals throughout Devon and Cornwall.
This outstanding reputation is due to our uncompromising standards of Podiatry treatment and patient care. With over 65 years combined experience we are registered with the Royal College of Podiatrists and the Health Care Professions Council (HCPC). It is our policy to always maintain the highest professional, clinical and ethical standards.
Our highly qualified team are experienced specialists in the diagnosis and treatment of foot and lower limb related problems, delivering excellent levels of care. To achieve this we provide the latest medical cutting-edge technology available to treat patients more effectively – including: SWIFT® microwave for verrucas, Lunula laser® for fungal nail infections, Omega Low Level Laser® for pain relief and wound healing and two types of Cryosurgery. The clinic was purpose designed and built for Biomechanical assessments and gait analysis.
Our team view every patient as an individual, this means you can be sure that your treatment experience with us will be tailored completely to you, your condition and your needs. We encourage you to participate in your own care by asking questions, listening, and making sure questions are answered. Therefore you have the necessary information to aid in decisions about your treatment plan.
We are dedicated to providing a world class service to keep you, the patient, well informed and give 100% commitment.
Market Street Clinic is also able to provide a first-class, on-site, foot care service for our patients. We are a clinical team dedicated to providing quality foot care to people in Nursing and Residential homes, or at home for people who find it difficult to get to a surgery or who simply want the convenience of a home foot service.
All of our practitioners are 'dementia friendly' and we aim to provide the same standard of service we supply in our clinic but with the added advantage of you not having to travel.
Common foot problems treated include:
"We want all of our patients to make informed decisions and fully understand any foot health issues you may face, so we've developed a web site packed full of valuable information about podiatry, podiatric problems and treatments. We encourage you to visit www.marketstreetclinic.co.uk whenever you have any concerns about your feet."
Siobhan McCutcheon MRCPod., B.Sc.hons.