Coronavirus
In light of the current Government advice, The College of Podiatry advises that: A frontline health care worker is a medical professional who delivers essential or routine medical treatment and that includes podiatry in whatever sector it is delivered.
Please note it is advised to follow the College of podiatry decision tree as part of the risk assessment before proceeding with every treatment.
We wanted to reassure all of our patients, in these trying times, about the high standards of podiatry practices we have already been working to for the longest time. As a practice we work tirelessly to ensure we meet the high standards that are expected of us.
We do this because this is a huge part of our values as a practice, and not because we are told to do it by the regulators.
For that reason, all our patients should feel confident that they are safe at our practice. You may have already observed many of the stringent standards we work to first hand and of course many procedures designed to protect both you and our team members also take place without being seen in the surgery.
We have just won top awards this month for excellence, including a 3 rated 50 point checklist incorporating, hygiene and cleanliness, of which we are scrupulous and we have been receiving awards for some years now. In addition, I was asked in a letter from the houses of parliament, when David Cameron was P.M. to appear as an expert for the Private Healthcare raising healthcare standards. A copy of which can be seen on our gallery page.
I hope this goes some way to reassuring you and gives some confidence that you feel safe in our hands.
We have just received a delivery of newly developed hand sanitiser for use at our clinic :-
Clinisept and Coronavirus
In response to the many enquiries we have received regarding the effectiveness of Clinisept+ against Coronavirus, Clinisept+ has been rigorously and independently tested and proven to be highly effective in killing all enveloped viruses, including Coronavirus, in under 15 seconds.
Clinisept+ is a new chemistry and therefore not yet registered as a skin disinfectant. However, Clinical Health Technologies is working towards attaining this accreditation which would enable us to legally state that Clinisept+ is rapidly bactericidal, fungicidal, viricidal and sporicidal – as per the independent test evidence.
Given the exceptional situation with Coronavirus and Clinisept+'s ability to protect against infection, Clinisept are currently in discussion with the authorities regarding the wider use of Clinisept+.
Siobhan McCutcheon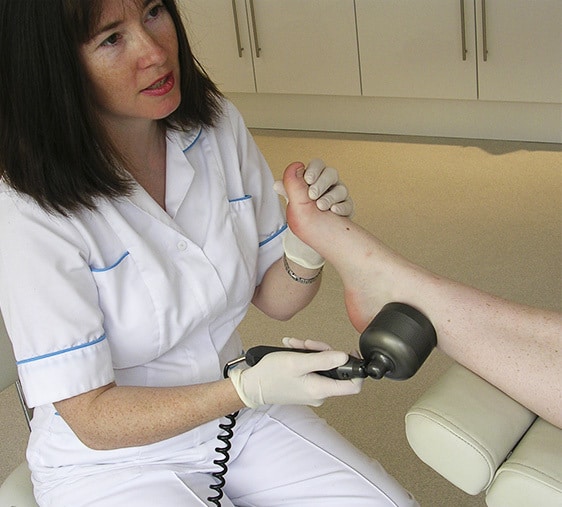 The podiatry professionals at Market Street Clinic, are pleased to welcome you to our practice. Located in the Cornish Market town of Launceston, we are dedicated to providing our patients with the highest possible standards of foot care and through using the latest technology, enables us to give you the best possible results.
Read More

Verrucas.
Brand new on the market, we are now taking bookings for treatment with Swift® microwave therapy. A proven solution for stubborn warts and verrucae. We can even treat hands. Call us now for more information with one of our friendly team on 01566 777600.
Swift® is the pioneering new microwave therapy for verrucas. Its quick, hassle free, no drugs or needles, paints or potions. Just State-of-the-Art technology and over 20 years experience in providing verruca removal.
Swift® has finally been approved by UK regulators, CE marked, passing both clinical tests and field trials. Always being at the forefront of podiatry and a market leader we now feel confident to roll out this treatment for verrucas in Launceston using Swift® at Market Street Clinic Ltd.
Market Street Clinic is Cornwall's leading Podiatry Clinic. It has developed the highest reputation for quality and service with many of our patients coming to us by recommendation from the local areas of Launceston, Callington, Liskeard, Plymouth, Tavistock, Bodmin and Okehampton and throughout the whole of Devon and Cornwall. In addition we have patients come to us from the wider UK and even mainland Europe!
Set in a quite street near the town centre, Market Street Clinic is easy to find with ample parking situated nearby and excellent wheelchair access. Our purpose built treatment room is modern and equipped with the latest state-of-the-art technology, furthermore the highest standards of hygiene are always maintained.
Siobhan has over 20 years of experience and is registered with both the Society of Chiropodists and Podiatrists, which monitors all of its members for the highest medical and professional standards and is also registered with the Health Care Professions Council (HCPC).
Our highly qualified podiatrists offer a professional, caring and personal service which is part of our culture at Market Street Clinic. We view every patient as an individual, this means you can be sure that your treatment experience with us will be tailored completely to you, your condition and your needs. Our team are dedicated to providing a 1st class service.
Market Street Clinic is also able to offer an extensive home visiting service where we visit Nursing, Care, Residential and Individual homes where we carry out a full range of chiropody and podiatry treatments on-site. All of our practitioners are 'dementia friendly' and we aim to provide the same standard of service we supply in our clinic but with the added advantage of you not having to travel.
Common foot problems treated include:
"We want all of our patients to make informed decisions and fully understand any foot health issues you may face, so we've developed a web site packed full of valuable information about podiatry, podiatric problems and treatments. We encourage you to visit www.marketstreetclinic.co.uk whenever you have any concerns about your feet."
Siobhan McCutcheon B.Sc.hons., S.R.Ch.